I'm so excited to be linking up with some FANTABULOUS bloggers in the Bright Ideas Blog Hop!
Today, I will be sharing a quick and easy tip for positive reinforcement.
This year, I was faced with a challenge! My class is quite rambunctious, to say the least, and I have some behavior difficulties that can be tough to manage.
The behavior consultant from our school board has been a great help and shared this idea with me. It really works and it so quick and efficient.
Place a pencil holder on a bookcase or desk. Be sure to place it somewhere where the student in question will have a direct and good view of it. Place 3 or 4 pencils, popsicle sticks, or in this case, flower pens in it.
It is essential to have a discussion with the student before you begin this strategy. We sat down with our student and explained that we wanted to work on staying seated during class time. We told her that she will have four chances (i.e. four flower pens) during each period. Each time she gets up, the teacher removes one pen. At the end of the period, we check to see if there are any pens left. If so, the student receives a small prize and praise. Prizes can be as simple as a sticker, 10 minutes on the computer, read a book to the class, etc... The list goes on and on! If there are NO remaining pens, then there is no prize, but also NO negative feedback.
This works great for those students who do not respond well to consequences. There is no reprimand for emptying the pencil holder, but not praise either. This helps alleviate anxiety and stress.
What I really like about this strategy, is that it is not disruptive to the class. There is no need to call upon the student or stop the lesson each time he/she misbehaves. Simply walk by and remove a pen without talking or interrupting your lesson. It is also great because the other students are unaware of the reminder/cue. The student is not being singled out in front of his/her peers.
It is QUICK, EASY, & POSITIVE!
Keep on hopping and check out the next BRIGHT IDEA over at
Seusstastic
.
Mel D. is a first grade teacher with FABULOUS ideas!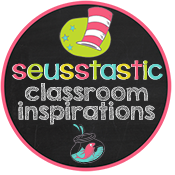 Her post is all about Classroom Management.
Until next time...